Making your first-party data work for you.
RAEK is a simple tool that enables you to collect, organize, and utilize your first-party data.
See All Features
It all starts with a single line of code.
RAEK installs on your website with one of our plugins (recommended), Google Tag Manager, or direct installation. Installation only takes a few minutes.
RAEK gets to work.
RAEK runs in the background, collecting identifiable first-party data on your website visitors and tagging unknown visitors for identification. Customer data is organized into profiles. Which is then displayed in the visitor vault on RAEK's dashboard.
Now the good part.
Your audience — now you truly own it. The customer data profiles RAEK builds are now yours forever.
Do more with your data.
You can use your first-party data for email marketing, SMS messaging, AD networks, building custom audiences, sales outreach, direct mail, or through the marketing channel of your choice.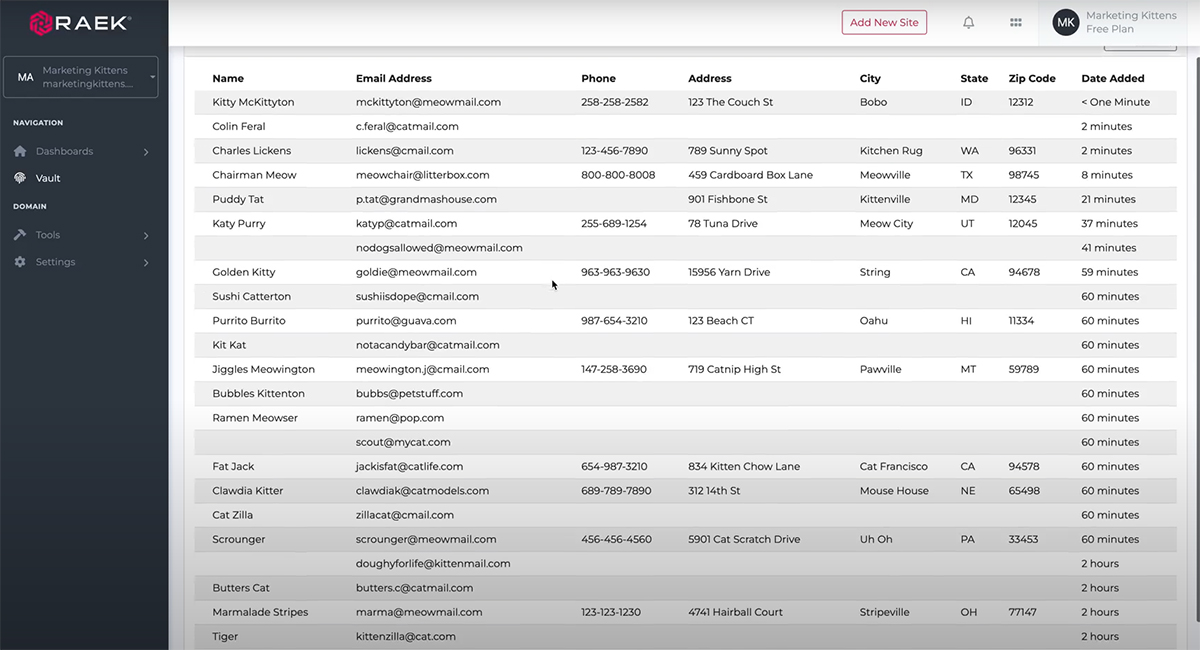 Automatic collection.
RAEK collects your first-party data from your forms, popups, quizzes, and purchases and organizes them all in one place. Allowing you to quickly use data from multiple sources through your marketing channels.
Anonymous visitors — we got you.
RAEK fingerprints all website visitors. Once a visitor is identified on the RAEK network, we push their customer information to your dashboard, so you can retarget them through the marketing channel of your choice. It's our solution to the iOS 14.5 update and third- party cookie depreciation.
Neat and tidy data.
You have first-party data. A lot of it. But it's a mess. RAEK organizes all your first-party data into profiles which are formatted to be easily used by your ESP, CRM, AD platforms, and sales team.
Visitor analytics dashboard.
Simple and easy to understand website visitor analytics, allowing you to see your web traffic and customer profiles built over time.
Visitor Vault.
Your first-party data visitor profiles are stored in your Visitor Vault. In the Vault you can view your visitor profiles, store them, download as a CSV file, or integrate them with your other marketing tools.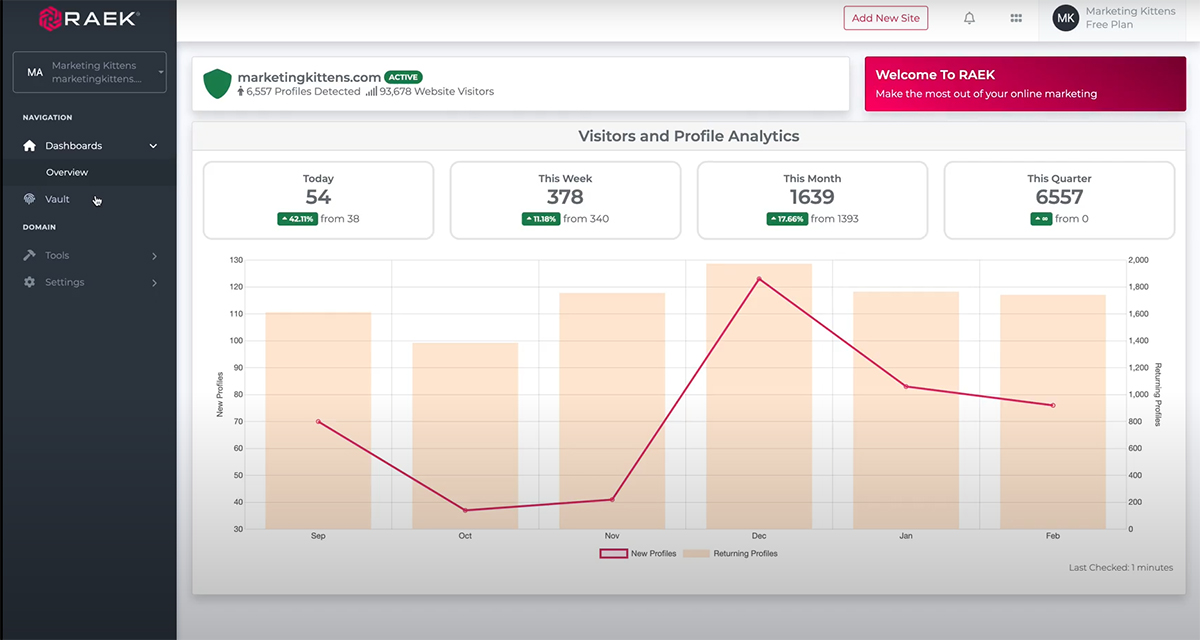 Sound too good to be true? Here's what our customers have to say.
RAEK has been a game changer. Getting people to your site is one thing. But capturing their data, and being able to turn them into a true lead is another. Many people will visit your site, but not many will actually fill out a form. Raek has allowed us to still capture their information, so we now have endless leads from people visiting our site. And these are people who sought you out, which generally means they are motivated.
- Danny O'Bannon - CEO of Sell-It Simple
RAEK allowed us to identify and get our story out to more people quicker and less expensive than before.
- Wil Ralston - CEO of SinglePoint, Inc
RAEK has helped Brick West in building our customer base. Being able to directly communicate with fans of the brewery is invaluable in a world of constant distractions. Not to mention, it's simple to use and integrate into our website.
- Bill Powers, Head of Marketing, Brick West Brewing Company
The lift in ROAS was almost immediate after we added our first-party data to our advertising audiences.
- Tanner's Alaskan Seafood
The added emails helped us have the best Black Friday sale we've ever had. 53% of Black Friday sales were directly attributable to our email marketing campaign.
- JM4 Tactical
I 100% believe RAEK gives us an advantage over other marketing agencies.
- Mitch Barham, Owner, Barham Marketing
It was easy. It was affordable. And once it was installed, we never had to think about it again. The emails automatically transfer to our ESP using Zapier.
- MPA Supplements
Your first-party data is your most powerful asset
Your first-party data is your most powerful asset
Join the thousands of businesses growing their customer data with RAEK